Thermal Baths – Achinamiza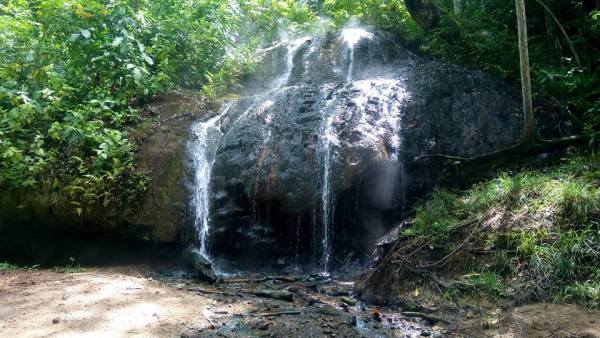 A two-hour boat ride from Chazuta town.  Born in the middle of a rocky hill and spreading over an area of 10m these water are mineralized containing sulfur and ferrous nitrate, which flow at various points with temperatures reaching 40°C; with cold water pools to compliment.   In the middle of small and spaced hilly formations derived from the 'Cordillera Escalera' protected rainforest.  The landscape is dense with vegetation and is surrounded by pristine mountains where you can observe insects and butterflies.
Jumanchi springs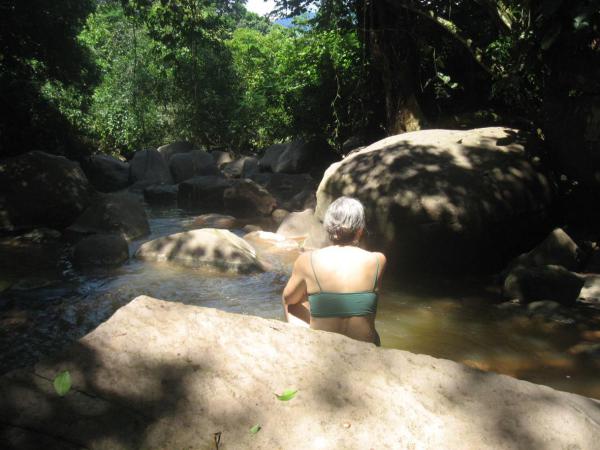 30- minute by boat along the River Huallaga visit the land of Jumachi.  A short walk for about an hour to Yacuruna pozas which is a collection of small pools, a beautiful place full of magic and mysticism where we can relax, take a refreshing swim, and connect with nature.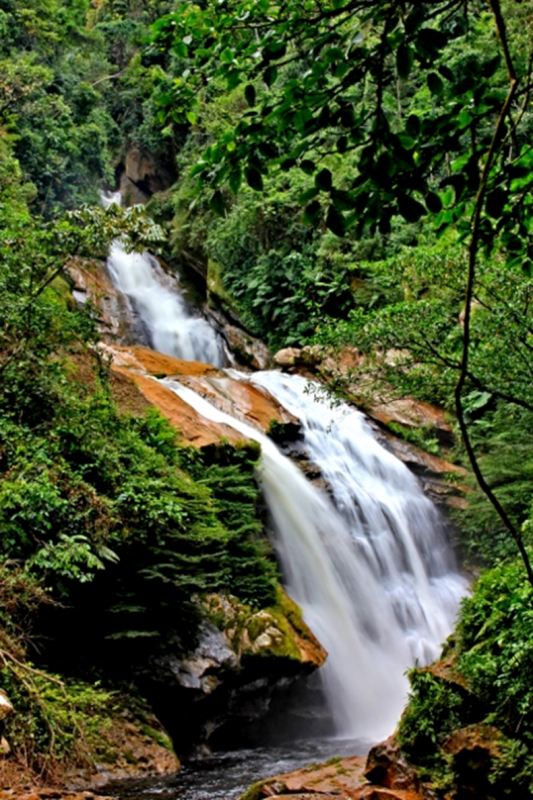 From the heights of the last mountains of the Cordillera Escalera this waterfall is located on the left bank of the Huallaga River with a foaming waterfall over 40m high with 3 smaller waterfalls following, it is located at 280 meters. At its core, the torrent of water reaches 6m wide and has a depth of 5m causing a loud noise perceived long before even arriving there and because of the large volume of water it carries, its uniqueness derives its name. In the bottom of the waterfall, the water forms some backwaters so it can be really dangerous to enter. The landscape is characteristic with lush food and medicinal plants growing around the forest floor. Wildlife is abundant in species of birds, butterflies, insects and small mammals.
Learn directly from the Chazutino artisans
The Chazutinos possess a dynamic culture expressing themselves artistically through its ceramics.  The ceramics have always played a vital role in the community, making Chazutinos famous for being bona fide potters.   Chazuta's traditional pottery is based on the known and widespread technique of rolls of clay, which are overlapped and smoothed to shape dishes for different purposes. 
 Courses in ecological natural paper.
Learn how to make paper in this workshop using the pulp of Banana trees, normally cut and wasted after the banana fruit is ready; coconut is also used.  Making paper by hand is by no means an easy process; you can help with this physical process or just watch and learn.   Once you have learned the art of papermaking you could have a go using organic materials found in your local environment.
Agrotourism – Farms – Chocolate Route
Learn how to make the most amazing energetic chocolate and then travel along the Huallaga River passing native communities, visit an island that grows and produces organic cacao.  Learn about the different stages of the cocao production and participate in the labor process.
Natural sulphur springs of Chazutayacu
Naturally occurring pools that reach temperatures of 40 ° C with a high content of Azure. The springs are surrounded by profuse rainforest vegetation and the path leading there is surrounded by fields and trees, where we can see the river, birds, and toads. You come to the baths to relax, take a medicinal bath in the heated pools and then take another swim in the large pool that forms the gorge of cold water. The pools are relaxing and relieving ailments in bones and skin. 
 Remember that all our package tours can be altered to suit your traveling needs.
5D 4N – Pure Chocolate Experience – Chazuta – Lamas – Pucacaca

1- 2 – 3 Day Trips –  Boat Trip – Cacao Island – Jumanchi Springs  – courses in agroforestry and chocolate making
6D 5N – Indulgence into Nature – Walking Route (short walks) – Families  – San Roque De Cumbaza and Chazuta
2 Day Trips – Chazuta – Nature Trail – Waterfall Tununtunumba (3-hour hike) –
chocolate course – sulphur springs (2-hour hike) 
2 Day Trips  – Chazuta – Chocolate Route – Courses in ecological paper, ceramics. and museums.